If you are looking at finally moving your blog to a new website or starting your new online business be ready to be swept over with the numerous web hosting providers out there. While choosing the right one for you look out for the service provider which gives affordable solutions, top-notch support, domain registration and most important amazing features. Having said that it can get a bit daunting to figure out the right one for you.
The first company you would want to choose is the one you have heard the most of through advertisement or for being the oldest in the industry. But that's not always the best way to choose if you go by experience. It's always best if you do a little research on web hosting companies and then choose the best service which fit your needs. The most heard names in the web hosting industry are GoDaddy, Bluehost, Hostinger and HostGator.
Here is a little preview of these hosting companies and what they have to offer.
Now you probably already know that GoDaddy has been in the industry for the longest which offers web hosting, Domain name registrations, online provider for small business, emails and office and SSL certificates. Their basic plan for web hosting starts at $5.99/month with one year of the free domain.
HostGator offers web hosting, website builder, domain registration and more. The basic plan for a Shared web hosting plan starts at $2.75/month which includes a year of the free domain. Which makes it one of the cheapest Hosting providers available right now!
Bluehost is one of the largest hosting providers which offers web hosting, e-commerce, domain registrations, and professional services for business. Their basic plan for Shared Web hosting starts at $3.95/month with Free Domain registration.
Hostinger has multiple options it has to offer when it comes to hosting from a website builder, web hosting, domain registration to domain transfer it covers all and some more. The basic plan for Shared Web Hosting starts at $2.15/month which does not include domain registration.
Now start your online business website within minutes without burning a hole in your pocket and getting caught up in technicalities with HostGator. Here are the reasons why and how HostGator should be your choice for web hosting.
If you are looking to start a blog, planning to start a new website or transferring your blog from WordPress.com to WordPress.org no matter what your reason is it's the right time now to get your dreams started with the never like before an offer of Free Domain for a year along with free SSL Certificate, and easy WordPress installs. Get going and book your Domain name free for the first 12 months with shared, cloud or WordPress Hosting. Utilize the powerful web hosting servicing provided by HostGator to launch your website now.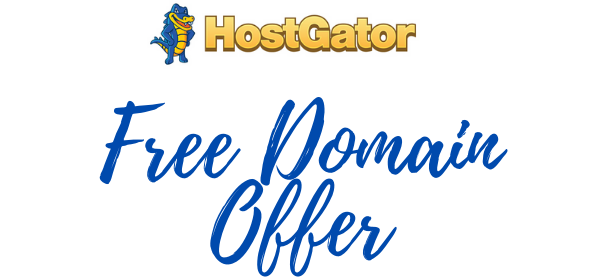 Get Started With Hostagtor's New Free Domain Offer
If you have been waiting to launch your own website or try out HostGator services at lower cost now is the time to seize the opportunity as HostGator has launched this amazing free domain registration offer just for you. There are no hidden charges that you need to pay, just some important tips to keep in mind while availing this offer.
Free domain registration available for .com, .net and .org
A domain name can be registered with shared, cloud and WordPress hosting
You must sign up for 12,24 or 36 months HostGator hosting plans
After the first year, your domain name will renew at the regular rate
A new domain name cannot be transferred to other registers for 60 days after registering
No other HostGator discount can be clubbed with this offer
Money-back guarantee is applicable but the domain fee will be deducted
Only one domain per purchase.
Don't miss this offer as it is going to be a huge saving (we are talking a few hundred dollars) on your part while launching a new website or a small business, where at the beginning small savings matter a lot. Just remember to claim the offer during purchase.
Let's get you started on choosing the right domain name for your website
It's important that you chose the right domain name for your business as it's more than a few words strung together, it's going to be your identity. To make your online business a success you have to pick up the perfect domain name like that is going to be your online identity.
Here are a few factors you can follow to get your business a winning domain name:
Always go with .com as it's most commonly used and recognized TLD
Keep it short as it's easy to remember, type, share and say while introducing it
Choose a name that accurately lets the customer know what they will get once open your website
Use keywords pertaining your business in the domain name
Stay away from copyright issues. Do a background check on the domain name you finalise.
Now that you have shortlisted a domain name, here is how you can HostGator,
Visit HostGator Domains and type your chosen SLD in the search box
Choose your desired TLD from the adjacent drop-down menu
Click search
If your domain name is available click Add to Cart
Click express checkout to provide personal information and complete your order.
In case your desired domain name is not available to check out the availability trough other TLD or changing the domain name. Once your desired domain name is available to grab it instantly before someone else.
If you are still not convinced about moving to HostGator or starting with them here is a list of reasons why HostGator should be your choice for web hosting in comparison to others.
Free Domain for a year
Cheaper and affordable hosting plans
Unmetered bandwidth
Unmetered storage
Free unlimited email address.
Uptime guarantee of 99.99%
Best customer support provided 24/7×365 via live chat, phone, email or ticketing.
45 days money-back guarantee.
Here is a list of advantages of moving your blog or website with HostGator right now,
You get your own free domain name. Once you decide the name you want for your website you can check it out on domain checker on the website. Check out if your top choice is available. For example dreamchecker.com or catchmydrems.com. ( Free domain offer is available for .com, .org, and .net)
Use the Gator Website builder to easily build your own website. Just drag and drop the elements you want and get your website up and running
Start earning money through your blog, an online store, or a membership community
Choose themes designs you want or customize according to your needs
Install the WordPress plugin on your website
Have full control over your content and build your website the way you want it.
We have been using HostGator since the starting so can confidently say HostGator has been with at every step of our success and growth. Their helpful support team and rock-solid infrastructure have helped us grown in the past years and hopefully in future too.
Here are a few tips you can use for Domain Management.
The number one Domain Management tip we would love to give you is to renew your domain name each year. Now that's something you would think which is difficult to forget, but once your business is booming and keeping you busy it's might slip out of your mind.
The best way to make sure no one tries to steal your domain name or to lose your domain authority to Google is to select Auto-Renewal when you purchase or keep all your renewals in one place. That makes it one more reason for you to move on to HostGator as it will take care of your website hosting and domain.
Here are some more features that HostGator offers when you choose the All-in-one package:
99.9% uptime
Free SSL certificate.
45- day money-back guarantee.
24/7/365 world-class support.
Free website transfers.
HostGator is your one-step stop for all your website needs. It covers Web Hosting, Website Builder, WordPress Hosting, VPS, Dedicated Hosting and Domains. Here are the pricing details for their packages.
Here is a detailed pricing plan for Website Builder packages at HostGator.
Starter at $3.84/month. You get Free hosting, Domain name, Drag and Drop builder, customizable templates, website analytics, Free SSL certificate and 24/7/365 support.
Premium at $5.99/month. You get Free hosting, Domain name, Drag and Drop builder, customizable templates, website analytics, Free SSL certificate and 24/7/365 support and priority support.
E-commerce at $9.22/month. You get Free hosting, Domain name, Drag and Drop builder, customizable templates, website analytics, Free SSL certificate and 24/7/365 support, priority support and e-commerce functionality.
HostGator offers free 1-year domain registration on their Shared Web Hosting plans which are divided into three plans. The basic plan starts at $2.75/month.
WordPress Hosting also offers free 1-year domain registration on their annual plans which start at $5.95/month for the Starter Plan.
VPS Hosting starts at $19.95/month for the Snappy 2000 plan.
Dedicated Server Hosting starts at $89.98/month with the Value Server subscription plan.
Choose Your Plan And Get Started
Now that we have informed you of all the important features of HostGator here are the Pros to consider the final move.
Pros
Strong and stable uptime
Outstanding customer support
User-friendly site builder
Free domain for one year
Low renewal pricing
Site security features available.
Conclusion
If you are looking to launch your own website hands down HostGator should be your first and only choice. HostGator is reliable and affordable when you're a new business where small savings matter the most. With strong and stable uptime you will have a running and successful online business in no time