With OpenSRS hosted email, you needn't look elsewhere for quality email services. They help you with everything related to email for your business the right way. They have thousands of resellers and over 4 million users worldwide who use their customizable, affordable and reliable Hosted Email solution. The solution has a host of good features and will meet the needs of every user. Their webmail client was designed to be used by almost any type of business. Find out more about where the OpenSRS email services are suited for you.

Do email the right way, Get Started with OpenSRS Email Services
Features of OpenSRS Hosted email
White label
Your customers will identify you with your brand which is fully customized to your requirements.
Get flexible storage options
Very friendly dashboard and interface
Every mailbox includes 5GB of storage space with additional storage available.
Security
Email filtering ensures users and infrastructure are protected against threats like spam and viruses.
The Webmail is available in 13 languages including English, French, Spanish, German and Brazilian Portuguese.
The hosted email services are reliable, scalable and high-performing our solution is trusted by thousands of resellers worldwide.
You can focus on your core business and leave the time-consuming day-to-day management of your email operation to OpenSRS
Pay for the services you need and avoid paying for those not needed
No upfront investment and you only pay for the mailboxes you create.
24*7 abuse team takes care of whitelisting and blacklist mitigation while you focus on your business.
Use the cloud solution and free up server space.
Stringent security with secure data centers and easy deployment
Pricing for the Hosted email services
They are as inexpensive as they can get. The mailboxes are priced most nominally. Here's a brief on the cost of their various services.
Full mailboxes start at $0.50 per month
The features available include spam/virus filtering
Email filtering
$0.10 per mailbox/month which includes spam quarantine
Email forwarding
This is at the lowest cost of $0.02 per email address/month
It is to be noted that in all mailboxes you get 5GB of space (additional storage available) alongside POP3, IMAP, and webmail. If you are using some other email services and would love to migrate to OpenSRS, it is as easy as ever. It can be done in a short while with the preparation phase, pre-migration, migration and post-migration steps.
Customer Care
They have an amazing knowledge base which helps you get information. You can contact them directly at
North America: 1 888 511 7284
International: +800 371 69922
Moreover, you can also email them at Email: [email protected].
Their response is quick and they answer to the point. The customer care has in-depth technical knowledge not answering you to a set of questions they are trained on but listen to you ti get a detailed understanding of your issues. Thus you can expect a good response to your queries.
Testimonials
As part of their Hosted Email service, they are working to continually improve the platform maintaining high availability. They are constantly working towards improved workflows and a clean, mobile-responsive interface. Users can preview the Webmail to get familiar with the refreshed interface.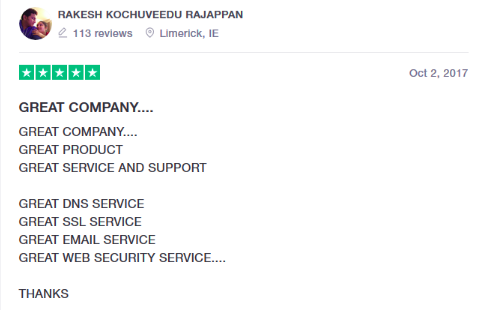 OpenSRS offers some of the best hosting and domain services which include top-level and premium domains. Other features include domain name suggestion, privacy protection, domain parking, and more. The OpenSRS Email module gives the ability to allow customers to purchase as well as manage mailboxes, forwards and filter-only accounts and supports the management of aliases.