Verdict
Go Online and Grow Your Business Faster" is the first statement on the GoDaddy official website. GoDaddy is one of world's most reliable web hosting company and has gained tremendous traction from its 18 million-plus customer base. Let's review GoDaddy plans, services, and other features to make sure it is what it says.
Visit Godaddy

Introduction to GoDaddy. 1
GoDaddy Hosting Plans in Pocket. 2
Introduction to GoDaddy
GoDaddy is a well-established name in the web hosting space. It offers its customers to choose domain names for their online business and makes it incredibly easy for them to skip the tedious registration protocols. Be it .com, .in,.co.in or any other domain, GoDaddy web host offers an option to choose from 100s of domains at pretty affordable prices.
Talking about GoDaddy's origin, this American web hosting company was founded in 1997. In its journey to offer business outreach opportunities to its customers, GoDaddy has exalted to become a firm of 6,000 employees serving more than 18 million customers. In 2005, GoDaddy became the biggest ICANN-accredited registrar on the internet. And by 2018, it has become the world's largest web hosting company by market share.
GoDaddy Features
Being number one in the market is difficult and so is maintaining that status. One has to market successful products along with impressive services to ensure the position. GoDaddy comes with exciting features to attract customers.
GoDaddy gives a choice to its customers to select between easy to use cPanel user control panel and Plesk control panel. Root access is a cherry on the top for tech-savvy users.
For customers interested in Webmail, the GoDaddy workspace feature helps them to maintain unlimited email accounts.
Customer satisfaction has been the prime motive of the GoDaddy team. As mentioned in their website, they hold an award-winning support team ready to answer any query, anytime.
GoDaddy offers one of the best server monitoring service to its customers. Their round-the-clock security monitoring assures a guaranteed uptime of 99.9%. This is not a new feature as other web hosting companies also offer, but it is surely one of the most critical features.
The page-load speed of the host domains they offer is, however, industry leading. Apart from that they offer a great deal of money back guarantee in the initial 30-days of service.
GoDaddy Hosting Plans in Pocket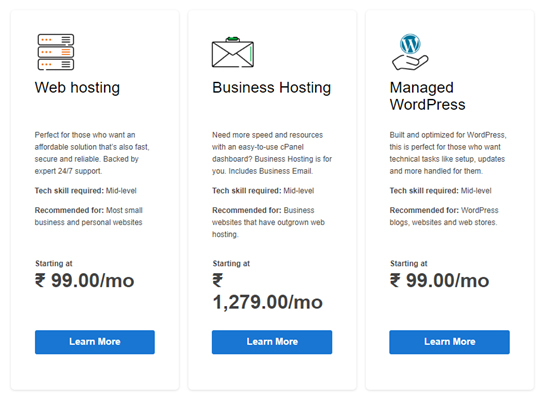 GoDaddy is a pioneer in shared web hosting (recommended for SMEs), VPS hosting (recommended for customers in need of advanced and resource intensive websites), and dedicated server hosting (recommended for customers in need of absolute ownership of their resources).
Web Hosting Plan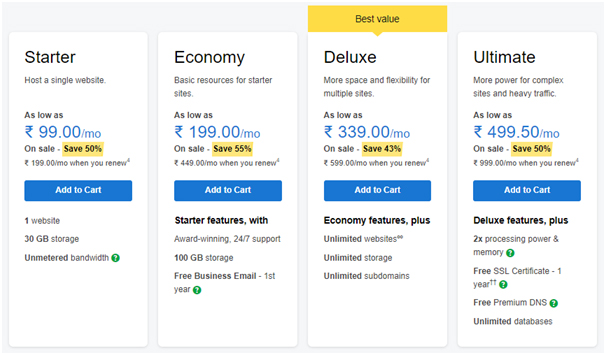 The basic plan GoDaddy offers for web hosting starts from INR 99/month, which is quite reasonable. But inside this plan, there are other service packages as well. GoDaddy divides its web hosting plans into 4 sections: Starter pack, Economy Pack, Deluxe Pack, and Ultimate pack.
Even GoDaddy tags the Deluxe pack to be its best-value-for-money package. With the cost of INR 339/month, you get unlimited storage, email access, subdomains, and websites. Such features are locked in the basic low-budget packages. However, every plan includes:
One-click installation of 125+ free apps including WordPress, Joomla, Drupal like CMSs
1 GB data storage for MySQL Linux
DDoS protection with 24×7 server monitoring
Easy to use and flexible control panel
Business Hosting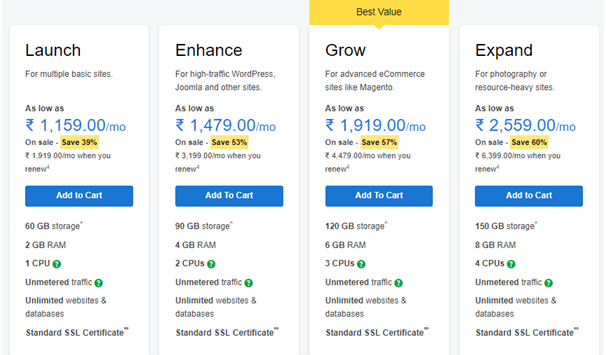 Similar to the Web Hosting, Business Hosting plans also have classified distributions across a variety of price range.
As an added element, GoDaddy offers a Business Email Plus plan free for the first year on the purchase of any business hosting plan. These plans are significantly useful for advanced e-commerce websites and high traffic CMS websites such as Joomla and WordPress.
VPS Hosting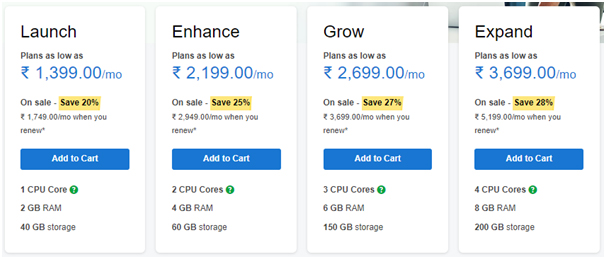 GoDaddy's plans are the epitome of easy server management. It helps the customers to build the website from industry standard control panel facilities including automated backups, software updates, and 24×7 uptime monitoring.
Dedicated Server Hosting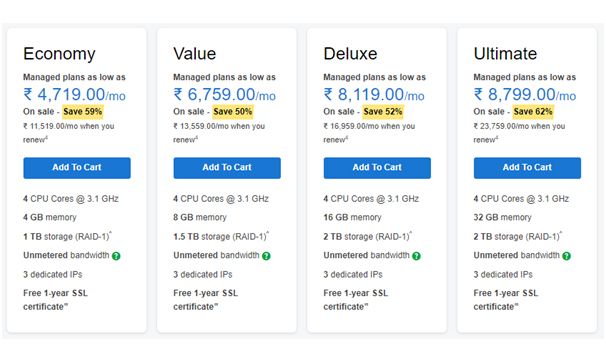 Dedicated server hosting by GoDaddy is extremely powerful, flexible, and controlled service that offers integration with resource-intensive web applications with complete root access.
GoDaddy classifies Dedicated Server Hosting plans into 4 packages: Economy package with 4 GB memory and 1 TB storage, Value package with 8 GB memory and 1.5 TB storage, Deluxe package with 16 GB memory and 2 TB storage, and Ultimate package with 32 GB memory and 2 TB storage.
A free 1-year SSL certificate to authenticate the website domain is plus one with every plan.
Pros of Choosing GoDaddy
Simple steps for website creation and going live in minutes
Affordable pricing plans
Rich experience and success stories
Excellent uptime
Integration of email closely into Microsoft apps
Cons of Choosing GoDaddy
Customers have to pay for the website builder
A critical WordPress CMS setup
Compared to other site builders, GoDaddy sites are not as visually appealing
But every coin has two sides, right? Choose your domain wisely because in the end, it will be key for your business to drive the global economy.