Trust me, purchasing a website domain is a trivial task but running one is not a piece of cake. In fact, in the myriad of requirements such as marketing strategies, social media marketing, content curation, and website design, a really short time is spent on the maintenance of the website. But isn't it the most important factor? To have a smooth-running website?
Powerful Web Hosting
Get Started Now
In the hosting market, there are a plethora of affordable solutions for customers with fancy website features and enthusiastic support. It puts the customers looking for website domain in more dilemma. Luckily, we have reviewed HostGator, one of the most popular hosting websites of our time. Go through our exclusive HostGator review to know it really has what they offer. This 7-minute read will offer you insights on:
The exclusive features of HostGator
The plans HostGator has for its clients
The pros and cons of having a HostGator domain
How this hosting service is different from others in the market

Introduction to HostGator
Brent Oxley, when he was a young college kid, founded HostGator in 2002. Now, 16 years later, HostGator hosts more than 8 million domains and is one of the most popular names in the hosting market.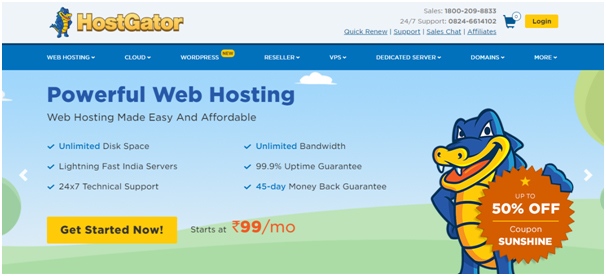 Many customers prefer HostGator because it offers a 'One-click WordPress installation' service with 99.9% of uptime guarantee. Even WPbeginner, the world's largest WordPress resource website, is one of the proud HostGator customers since 2007. It's not us but WPbeginner team which is saying it.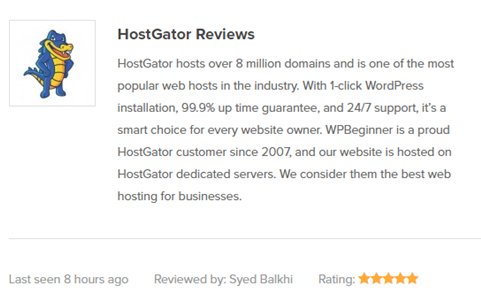 HostGator also offers a lot apart from shared hosting such as VPS hosting, dedicated servers, and managing the WordPress hosting services. HostGator's shared web hosting plan enfolds an inbuilt website builder and quick install tool for installing WordPress blog or a gallery extension into your website. They also support a variety of content management systems such as Joomla, Drupal, Magneto, Wiki, etc.
Happy Plans by HostGator
HostGator has a plan for everyone. As now they have an exciting 50% off scheme running on their products, you can get a starter package in just INR 99/month. HostGator classifies its plans in 4 sections.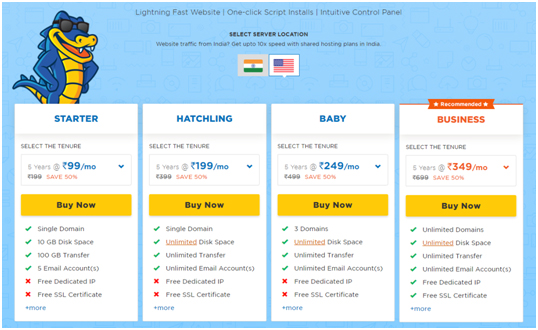 Starter Plan
With this plan, HostGator offers you a single domain with 10 GB Disk Space and 100 GB Transfer. You can access 5 e-mail accounts in this plan. A one clicks installation for WordPress subdomain is also a part of the deal. Free dedicated IP and SSL certificates are not part of this plan.
Hatchling Plan
The current discount offers this plan in just INR 199/month rather than the original costing of INR 399/month. It is a 5-year plan which comes with a single domain purchase but with unlimited Disk Space and transfer. You can also access unlimited e-mail accounts in it. Free dedicated IP and SSL certificates are not part of this plan.
Baby Plan
This plan, as of now, is available for INR 249/month. The baby plan is similar to the Hatching plan in every sense. The only difference is that it comes to the buyers with 3 domains. Free dedicated IP and SSL certificates are not part of this plan.
Business Plan
This one is the real steal deal. A business plan that costs INR 699/month is now available for just INR 349/month. This plan also brings free dedicated IP and SSL certificate to make your domain and subdomain secure. This plan ensures a completely secure web-hosting experience.
Pros and Cons of choosing HostGator
Every coin has two sides and you must be aware of what limitations HostGator possesses along with the bucket full of advantages.
Pros
Reliability and HostGator's guarantee of 99.99% uptime. A month's subscription fee will be credited to your account in case of any downtime.
A 45 days money back guarantee just in case you are not satisfied with the offered services. Usually, other websites do not offer a refund if you exceed utilizing the domain for 30 days.
Better discounts with longer billing periods. You can have options from monthly and yearly billing periods.
Free migration services for every new user.
Cons
Unlike other hosting companies in the market, HostGator do not offer a free domain on registrations and sign-ups.
Additional services are pre-selected while registrations and if not reviewed, the user can get these services unwillingly. Although, you can uncheck them initially and re-subscribe later when required.
Website Speed Test Results: HostGator
Just to be sure about the performance of the domains HostGator offers, we did a speed test on WPbeginner.com which is a trusted customer of HostGator for many years. This is what we got.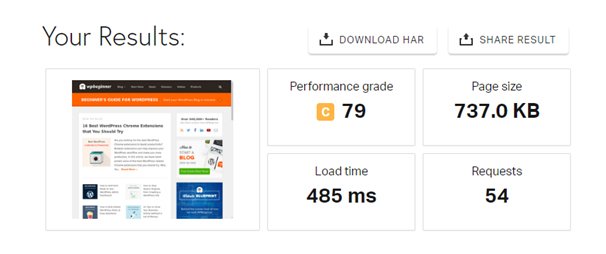 The speed test was performed on tools.pingdom.com. As you can see for a heavily curated content website, WP beginner shows a good performance grade of 79. It serves 54 requests/sec and the load time is 485 ms, which is pretty decent too.
Bottomline
Now that you've read the detailed review of HostGator, you might have got an idea about its services and features. Over 8 million customers have already shaken hands with HostGator. When are you getting started?