Hello reader. Welcome to the review page. There can be two reasons you landed on our review page. Either you are looking for an excellent hosting website, or you are thinking of hosting with Host Hero. In either of the cases, this review will lead you to a decisive outcome. Learn more with our Host Hero review and find out if it is your go-to website domain partner.
VPS Hosting Sale! – Save 50% OFF
VPS Hosting Sale! – Save 50% OFF on Your First Month By Entering The Coupon Code
Verified
Click To Copy & Apply Coupon
Introduction to Host Hero
In the world of web hosting business, Host Hero has gained a quick name in the small period. Providing an inexpensive hosting is not a small idea, and that's the reason they are a real value to your money. With giant web hosting companies such as Hawk Host, Host Gator, and Blue Host, Host Hero has a competitive advantage of ranking in affordable hosting services. The initial price for Host Hero cloud hosting is $3.95/month, which sounds actually attractive.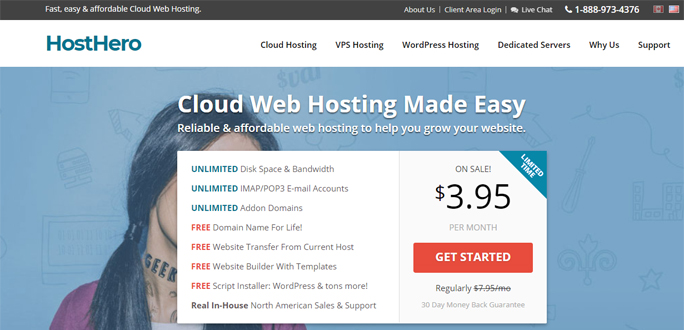 Cloud Web Hosting
Be it WordPress, Joomla or any other content management system (CMS); Host Hero delivers comprehensive cloud hosting options for every type of website. In $3.95/month, the users not only get a good hosting domain but also advanced features like Unlimited Disk Space, Unlimited IMAP/POP3 E-mail accounts, Unlimited Addon Domains, Free domain name for life, Free website transfer from current host, Free website builder with templates, Free script installers, 24×7 sales and support.
Wow! So much 'Unlimited' and 'FREE'!!!
One Question to Suffice it All. Why Host Hero?
Apart from its affordability, Host Hero claims to be a reliable web hosting partner, which will help you grow your website. But so does other web hosting domains.
What makes Host Hero different from its competitors?
What makes Host Hero a unique web hosting company is its homegrown team and talent. Whoever you talk to, you'll always end up in a conversation with someone that directly reports to headquarters. That adds up the trust value to the customer-company engagement.

Get Started
Apart from that, Host Hero also drives successful website performances of its customers by offering the following niche features.
Innovative Cloud Technology
Host Hero is adaptable to competition in the market. Their competitor web hosting companies have made them thirsty for innovation. Their innovative cloud technology is subjected to high security and addresses protocols of safe surfing.
Green Web Hosting Platform
Now, it is something unique that other web hosting companies lack. Host Hero claims to be a domain to offer functionality through effective utilization of computing resources. It not only makes the process greener but also reduces the carbon footprints.
Proactive Server Monitoring
Efficient monitoring leads to a safer business. For Host hero, their customers' safety is their topmost priority. That's the reason they monitor their cloud hosting and cloud VPS servers 24X7/365. Their network infrastructure is monitored diligently by enterprise software.
Money Back Guarantee
A 30-day FREE trial. You can eventually monitor their services for 30 days with an initial payment. The money will be refunded if you bounce back from their domain unsatisfied. No questions asked
Host Hero Cloud Hosting Plans
Let's take a sneak peek at what Host Hero offer in its plans. Currently, in their bucket, Host Hero holds one cloud hosting (Ranging from $3.95/Mo to $19.95/Mo) and 5 VPS hosting plans.
Cloud VPS Hosting Plans
VPS20 (20GB Disk Space, 512MB RAM Memory, Unlimited data transfer Bandwidth) $49.95/month. This is good to be occupied by small websites.
VPS50 (50GB Disk Space, 1GB RAM Memory, Unlimited data transfer Bandwidth) $69.95/month. This is good to be occupied by media websites.
VPS75 (75GB Disk Space, 2GB RAM Memory, Unlimited data transfer Bandwidth) $89.95/month. Comes with highly reliable performance and ample Disk Space.
VPS100 (100GB Disk Space, 3GB RAM Memory, Unlimited data transfer Bandwidth) $110.95/month. This is good to be occupied by Small and Medium Enterprises (SMEs).
VPS150 (150GB Disk Space, 3GB RAM Memory, Unlimited data transfer Bandwidth) $149.95/month. This is good to be occupied by Agencies and Marketing Departments.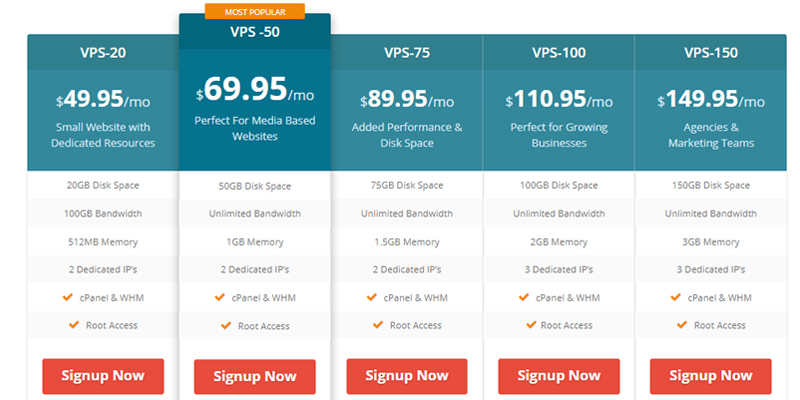 Choose your Plan Wisely
Happy Customers Brings Happy Business: Success Stories
Customer feedback and testimonials are jewels to the crown. To their customers, Host Hero has successfully delivered what they promise. Here's what their customers have to say.
Jennifer Layton has some really good words in her bucket.
Maron W. approached Host Hero for WordPress hosting and check out what he has to say. Happy customer indeed.
Roman Letti came to Host Hero only after getting bad services from his previous hosting providers. After coming to Host Hero, the traffic of his blog boomed.
Bottom Line
Host Hero is a small web hosting company that is growing very fast. They offer world class hosting services supported by high-end hardware and supporting servers. You can rely on host hero if you are looking for a much secure and faster cloud hosting.