If you are on a quest to seek a robust and self-sustaining web hosting server, your search ends here. With highly reliable above-board customer support, Hawk Host offers fair and transparent services on shared web hosting, VPS hosting, software development, and other features from the same domain.
Flat 30% Off Site Wide Plans
Get 30% Off on web all hosting plans
Verified
Click To Copy & Apply Coupon
This detailed Hawk Host review is exclusively curated only to cater your requirements to purchase a valued, self-sustaining, and great hosting domain.
Historical background of Hawk Host
Hawk Host was established in 2004 as a web hosting website. In the next 14 years, it has extensively developed its data centers in many global locations. Its headquarters is in Ontario, Canada.
Now, Hawk Host is deeply channeling the services of shared hosting, semi-dedicated hosting, reseller hosting, and virtual hosting in Singapore, Los Angeles, Dallas, New York City, Amsterdam, Hong Kong, and Toronto, respectively.
As you can see, the extensive experience of Hawk Host has gained them many trusted users from the Small and Medium Enterprises (SMEs).


Must Know Features of Hawk Host
Hawk host has a decent system readily available for its users. The shared hosting interface comes with a comprehensive, integrated website builder. Hawk Host houses an active community with ample customer support, which is available 24X7 for related queries.
If you still think why you should choose Hawk Host, the following features could help you in taking the right decision.
Dependability, safety, and security
Hawk Host has a reliable team of expert developers and trained professionals keenly observing the physical locations and server software. They ensure a bug-free website experience with safe and secure protocols.
99.9% guaranteed uptime
The best feature that you won't find with any other web host. Hawk Host guarantees 99.9% uptime on its hosting plans. If by chance, the uptime reduces below the said limit, the users get compensation in their billing month by opening an SLA ticket.
Rich Experience
As mentioned earlier, Hawk Host has been in the hosting business for more than a decade and believed in value for money.
24×7/365 Customer Support
Be it the middle of the night or early at dawn, Hawk Host's customer support is strong as a rock. Their expert technicians and staff are diligently on the front foot to help out their customers with queries.
Free Migration
Move from your old host to the new host in a jiffy. Hawk Host helps with the A to Z operations right from transfer to restore the host account. And did we forget to mention, it's FREE!!!
Let's go deep with this Hawk Host review and explore if it is a value for your money or not.
Hawk Host's Affordable Pricing and Plans
Cyber Monday sale has taken a toll over the internet. Check out the really cool offers that Hawk Host has in its pocket for the users this season.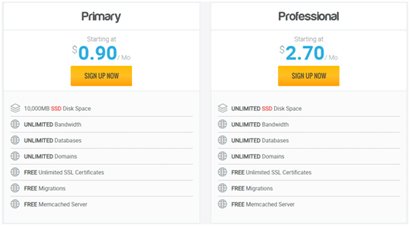 Primary Plan:
This could be the most affordable primary plan from any web host – $0.90/month! You can take leverage of 10,000MB SSD Disk Space along with unlimited Bandwidth, database access, domain, free unlimited SSL Certificated, Migrations, and many more.
Professional Plan:
Offering a professional plant in $2.70/month, Hawk Host is a revelation in the web host domain market. You can utilize an SSD Disk Space of 10,000MB with unlimited Bandwidth, database access, domain, free unlimited SSL Certificated, Migrations, and many more.
You are receiving a huge value for a considerably low investment on your next web domain. The best part is a lot of 'FREE' and a lot of 'UNLIMITED'. There are always a few extra charges on the billing amount that the users are unaware of. So we showcase the cost break-ups to simplify your efforts.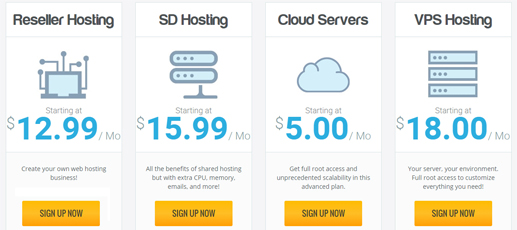 End Cost Break-ups on Hawk Host with Order Summary
The real costing of your purchase would be,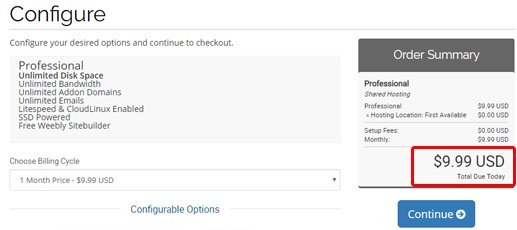 Voila!! That's a cool price out there for your first web domain. Lock-in your domain.
And, look. Due to the trending cyber Monday sale, you get a quick 70% onetime discount on your purchase.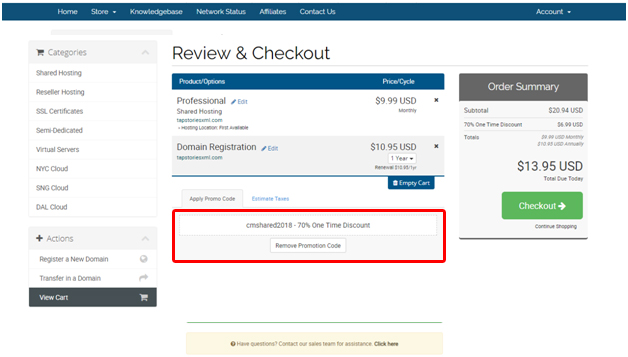 View other Hawk Host plans
Pros of choosing a Hawk Host account
Hawk Host offers reseller accounts
Purchase plans supporting 50-200 websites
Unlimited email accounts can be linked
Easy to manage control panel, even for beginners
9% Uptime guarantee
Rapid customer support services
Super cool pricings
Cons of choosing a Hawk Host account
It lacks a live chat with customer support
User information can be passed on to other domains
Reasonable offers only for events like Black Friday and Cyber Monday
So, what are you thinking on? Hawk Host does have a great set of features and comparatively affordable pricing for now. The lack of live chats can be a huge limitation but to raise a compensation ticket is a great way to lock-in customers.