According to a survey by the US Small Business Administration published in Digital, there are approximately 30 million small businesses in the country employing 47.8 percent of the US working population. Yes, and many more are opening up every week.
And in the fast pace growing market economy and competition, a digital face of the company represents the values, mission, work culture and products/ services of the company. A full-fledged working website is a must. To do that, people are looking for website builders and domain as cheap as chips.


Get Started Now
Welcome to the iPage web host review. Here, in the next 5 minutes, we'll detail and conclude if iPage is your Go-to website builder or not?
Introduction
When Thomas Gorny founded iPage in the year 1998, he did not know that it would become one of the most economical web hosting company down the lane it was based in Boston, MA and right now offers services like domain registration, shared, VPS, and dedicated hosting. Now it is owned by Endurance International Group that also houses top web host companies such as Bluehost, HostGator, and Constant Contact.
Majorly iPage targets small businesses who want to jump in the e-commerce domain. The three major areas where iPage focuses are:
Power-Packed Features of iPage
In the world of competition where a plethora of web host companies are offering cool features, iPage has some outstanding attributes to attract customers:
Free domain name with every registration
Unlimited Emails (up to 10,000 emails)
Infinite disk space
100% powered by wind energy. The company has bought a significant number of Renewable Energy Certificates. It is also is also called as "Green Web Hosting."
Free site-building tools including templates
Regular malware and spam scans followed by nightly backups and restore.
Scalable bandwidth with Unlimited domains
Unlimited MySQL databases.
Easy installation of apps such as Joomla and WordPress.
99.99% uptime guarantee.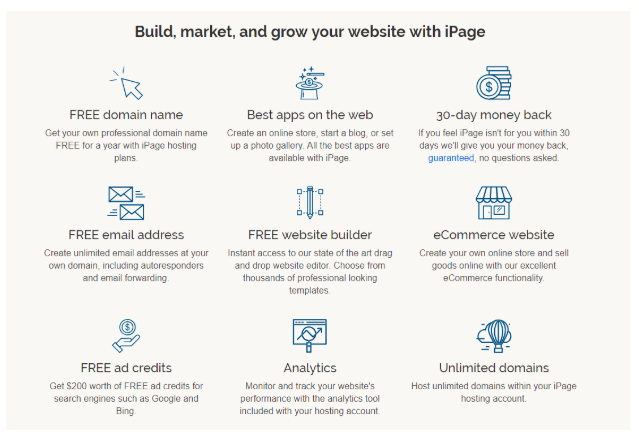 Essential Plans by iPage
iPage has plans that support much small business's needs. Along with free domain name and free site builder, the users get to personalize their email address. 1-click installation of applications and open source plugins are readily available. They have a 24X7 support team sitting at the headquarters to deal with customers' queries. Now, let's talk about the three significant plans they have in their pockets for the users.
Shared Web Hosting
This one is interesting. Where other web hosts are offering multiple offers for their shared web hosting services, iPage comes up with a one-size-fits-all plan. As per this, shared web hosting is being provided at a mere cost of $1.99 per month to meet all the online needs at a great value.

Choose Your Plan
VPS Hosting Plans
iPage's VPS or Virtual Private Server services comes with increased power, flexibility, and control. iPage offers three significant plans to choose from – Basic, Business, and Optimum. Out of these, the 'business plan' is the most essential and adds more value to the purchase.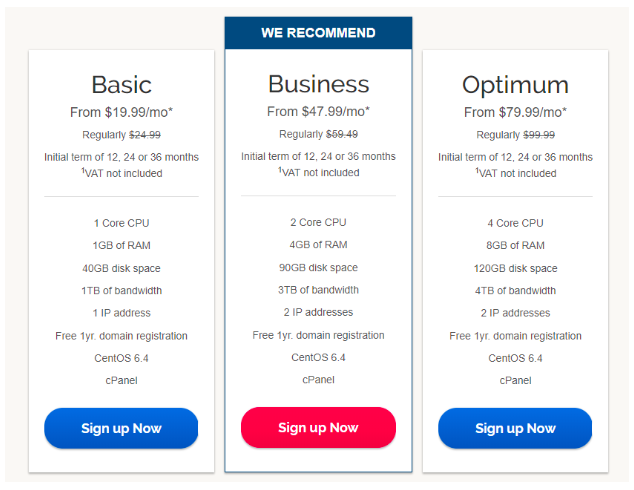 Choose Your Plan
The Basic Plan starts from $19.99 per month (discounted value) with no VAT included separately to the final cart value. It offers 1 core CPU, 1GB of RAM, 40GB Disk Space, 1TB of Bandwidth, 1IP address, free domain registration for a year, and cPanel included.
The Business Plan starts from $47.99 per month (discounted value) for the initial terms of 12, 24 and 36 months. It offers 2 core CPU, 3GB of RAM, 90GB Disk Space, 3TB of Bandwidth, 2IP address, free domain registration for a year, and cPanel included.
The Optimum Plan is their most expensive plan that starts from $79.99 per month. It offers 4 core CPU, 8GB of RAM, 120GB Disk Space, 4TB of Bandwidth, 2IP address, free domain registration for a year, and cPanel included.
Dedicated Servers Hosting
Dedicated servers are powerful solutions for the small businesses who are looking for an entire server not shared with anyone else. iPage offers them managed support, a bunch of pre-installed scripts including PHP5, PERL, Python and more.
Dedicated Servers Hosting is offered in 3 plans – Startup, Professional, and Enterprise.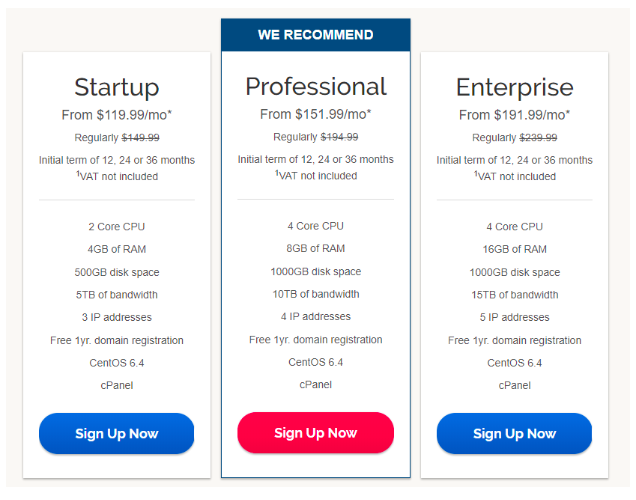 Choose Your Plan
The startup program starts with $119.99 per month and offers a bunch of features such as 2 core CPU, 1 GB RAM, 500GB Disk Space, and 3 IP addresses and so on. The dedicated sources are occupied with maximum security and good uptime due to mirrored storage. It also offers cloud-based flexibility where migrations from servers can be done seamlessly as the website grows.
The Professional program comes at the cost of $151.99 per month and offers doubled features compared to the startup plan. The services include 4 Core CPU, 8GB RAM, 1000 Gb Disk Space, 10 TB Bandwidth and 4 IP addresses.
The Enterprise plan's price is $191.99 per month. The services include 4 Core CPU, 16GB RAM, 1000 Gb Disk Space, 15 TB Bandwidth and 5 IP addresses.
Pros of choosing iPage
Cheap shared web hosting
Free domain registration
99.99% uptime guaranteed
Free shopping cart and online stores for e-commerce customers
30-day money back guarantee
Cons of choosing iPage
The renewal price of the plans is higher than other web host providers.
They seem to be upselling their services.
Site building features become limited and require an upgrade to one of the expensive plans.
Bottom Line
iPage's reputation follows in the market as one of the leading hosting providers. They have a rigid history of performance and inexpensive plans. For a web host provider, iPage is consumable by the customers. However and as with any web host you consider signing up with, ask lots of questions before committing to any hosting provider.