All those who run blogs and websites know the importance of good hosting service. While initially many choose shared hosting and later move to VPS, optimizing it for WordPress is a tough challenge indeed. While many who run WordPress sites have been recommending Kinsta of late, we decided to take a look and check out how good their offerings are. Read on for a detailed review on Kinsta.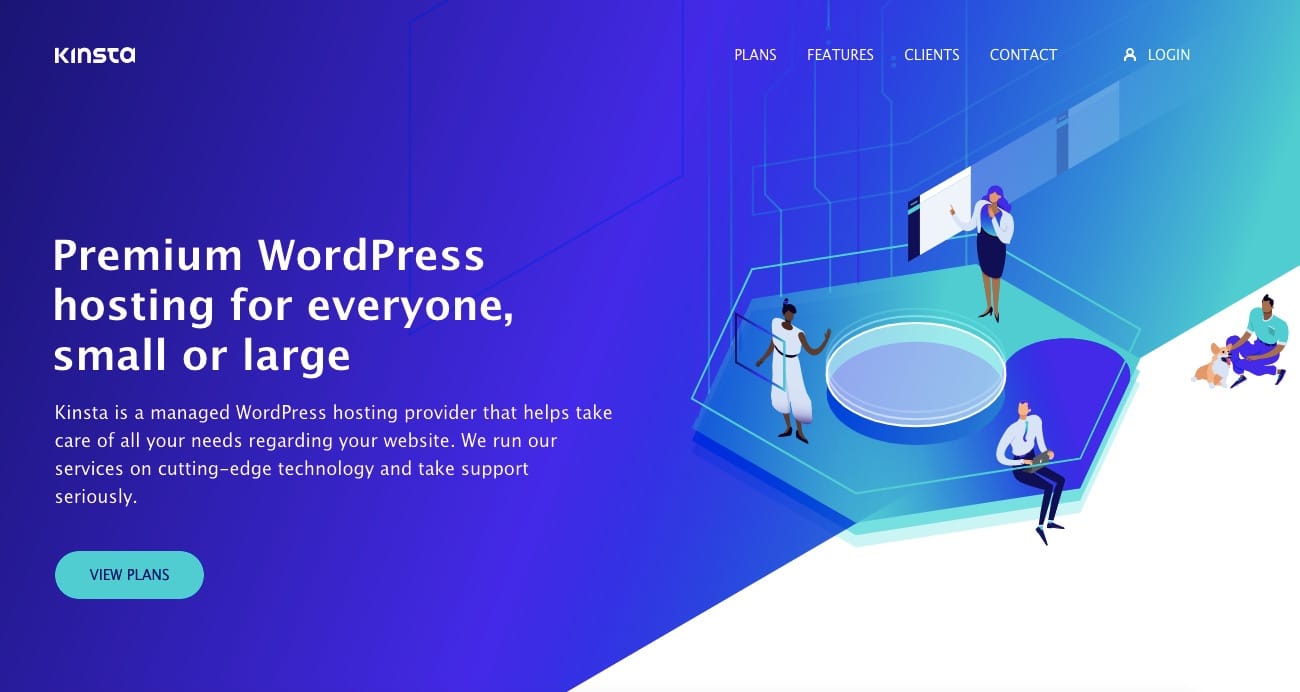 Get Started
What is Kinsta anyway?
Kinsta is a managed WordPress hosting provider and it takes care of end to end solutions related to the WordPress. With the latest cutting-edge technology and top-notch services, Kinsta gives you your own custom solution instead of a traditional C-Panel admin. It is easy to use and gets you straight to important metrics without technical jargon.
Kinsta is all about leveraging the power of Google Cloud Platform hosting and making it accessible to all. With over 10 years of experience in working with WordPress, they believe they have the best WordPress hosting solution available today
What are the features of Kinsta?
Runs on Google Cloud Platform
Offers Business, Enterprise, and Custom hosting solutions based on your needs
Multisite support
Premium DNS management
State-of-the-art technology like Nginx, PHP 7, to load your website in no time
High-security network with SSL support, hardware firewalls etc ensures 24*7 security
Get free site migration
Every 2 minutes of uptime check
Expert WordPress support
Choose your own data center
One-click instant launch
Offers a well-managed cache for WordPress
Brands such as Ubisoft, Aso's host on Kinsta which offer its customers the following in a nutshell
A hosting solution with amazing uptime
Pro-active WordPress experts
The quick and easy installation process for beginners
Several advanced features for those in the know.
A brief look at the Kinsta dashboard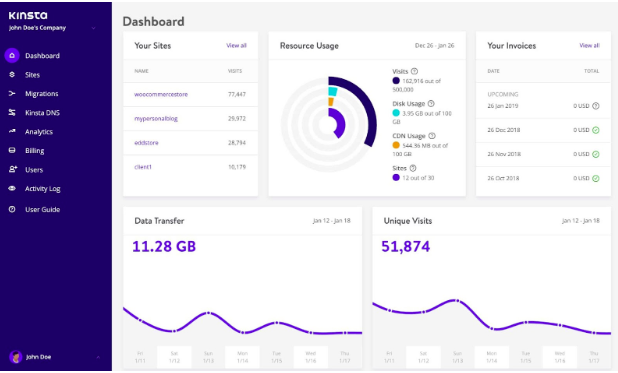 Get Started
The dashboard offered by Kinsta is powerful. Those who are new to the world of hosting will also find it easy to understand. Its different from solutions like cPanel and you can see that it focuses on daily tasks more than regular administration. You can access the following from the dashboard:-
Your sites
Any site migration
See backups
All DNS settings
Analytics and a lot more
Kinsta takes daily automated backup and you can also make an on-demand backup of your WordPress blog. Upto 14 instances of backup copies are stored and you can restore your backup on a single click to a live production site. Kinsta offers its clients free SSL using LetsEncrypt and helps you enable SSL for your site within minutes. Should you feel the need to use a custom SSL certificate, you may do so. A page called Tools helps you restart PHP, enable/disable PHP etc. The infrastructure and features of Kinsta are indeed detailed and up to the satisfaction of their most nerdy customers.
Kinsta Pricing Details
Pricing can be a catch when it comes to WordPress hosting. Have a look at their various plans. You get to choose from the following Starter, Business Plans, Enterprise Plans, and Custom Solutions. The Starter plan is as low as $30 per month all the way up to their Enterprise 4 Plan at $1,500 per month.
Included in all plans
Choose your data center
Expert support
Highly secure network
Built for speed
Staging area for development, testing, and tuning
Stylized control panel
Cancellation and Refund Policy
They are proud to offer a 30-day money-back guarantee and no long-term contracts. First-time customers, who cancel their hosting account during the first 30 days of service, will get a full refund. This means you have a chance to try Kinsta for free for the first 30 days. This money-back guarantee covers the cost of all plans from Starter to Enterprise 4. Returning customers get partial refunds.
Customer Support
Kinsta's hosting plans offer 24×7 support and all queries are answered by veteran WordPress developers and engineers. All their team also backs their Fortune 500 clients so you can have no doubt about their competency. The support team is here 24×7 and alternately you can contact them on their email ID – [email protected]. When we contacted them via the live service, we got back a reply in seconds leaving us highly satisfied.
Kinsta Ratings
After a survey with several users of Kinsta, these are the results we got
Overall user rating – 4.7/5
Reliability rating – 4.6/5
WordPress optimization – 4.7/5
Support rating – 4.5/5
Reviews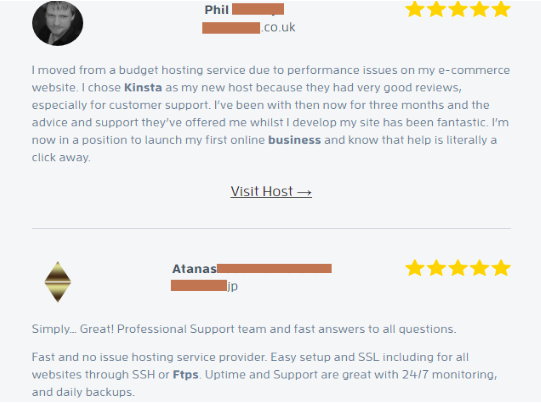 Kinsta gives its customers a large hosting platform – Google Cloud Platform in an easy-to-understand way and its solutions are performance-optimized. Besides great security, you also get timely backups and a no-nonsense approach when it comes to their server parameters and all other promised features. We would surely recommend them without any hesitation.