WPWebHost is a hosting company which was founded in 2007. It is seen that they are a subsidiary of Exabytes Group of companies, who are a leading website hosting and E-commerce hosting provider in Southeast Asia. WPWebHost have their data centers in Singapore and Denver and they currently provide hosting services to over 100,000 customers. It is seen that WPWebHost only offers shared hosting and does not include virtual private servers.

Best Managed WordPress Hosting, ideal for bloggers and web designers.
Why choose WPWebHost for your hosting plans?
WPWebHost has been enhancing its hosting functionality, with less complexity in management and execution.
You have pre-installed WordPress where you don't even need a single click as WordPress is preinstalled in your hosting. When you sign up, you can directly access the CMS dashboard without any installation which is good for first-time users.
Every WordPress hosting plan of WPWebHost comes with a free domain name without any hidden charges.
You have a free and preinstalled Jetpack which is worth up to $299/year. Jetpack is a powerful plugin which helps to enhance the performance of WordPress websites.
Free SSL is provided for adequate security. The SSL certificate is also included in the hosting plans, so you don't have to pay extra to get it.
Excellent WordPress Toolkit which helps you simplify WordPress management.
As WPWebHost focuses solely on WordPress website hosting, you get features tailored specifically for this. They integrate with Jetpack, and you get access to over 200 free themes which can be set up in a matter of seconds in a couple of clicks. It also integrates with WordPress Toolkit for one-click installation and provides WordPress auto updates, website traffic statistics, and much more.
What are the hosting plans with WPWebHost?
You get four different WordPress hosting plans which are priced from $3 to $77. They do provide both shared and dedicated hosting, depending on your usage and requirements, making it easy to find your best fit hosting plan.
WP Blogger
As it is named, this hosting plan is specifically designed for bloggers. This plan enables you to host 1 website with 10GB SSD storage and 2 email accounts. It is also said to come with unlimited data transfer and is recommended for 10,000 monthly visits. It also has Jetpack free edition included in the plan, therefore you have unlimited image CDN, downtime monitoring, automated social media posting and so on.
WP Lite
For those who have a mature audience base and are looking to achieve more traffic, this WP Lite plan is best suited. It is recommended for 20,000 monthly visits. It lets you host 1 website only. You get some good features like 30GB SSD storage, unlimited email accounts and Jetpack personal. The plan costs around $7 /month.
Jetpack personal has more useful features like a daily automated backup which is coupled with 30 days archive as well as automated spam filtering.
WP Plus
This is for those who are hosting multiple websites. It allows you to host up to 5 websites with 50,000 monthly visits. It gives you 60GB SSD storage and is under a semi-dedicated hosting environment. It comes equipped with the Jetpack professional and supports real-time automated backup, automated malware scanning, and security fixes. It is worthwhile and the most popular option as Jetpack professional is worth $299 per year, and you get it for free when you signup for a WP Plus plan. The plan costs $ 27/month.
WP Geek
The most expensive plan is this Geek plan at $77 per month, which is suitable for web designers or developers. It supports up to 30 websites with 100GB SSD storage and is hosted in a dedicated environment. As with Plus plan, the Jetpack professional is included and this is recommended for 150,000 monthly visits.
Get 100-DAY RISK-FREE GUARANTEE
You are protected by 100 days Risk-FREE Guarantee Program where in case you are not satisfied you can cancel and get 100% refund within the next 100 days. No questions asked.
What are the pros and cons of WPWebHost?
Pros
Perfect for beginners or new users with no knowledge of hosting
They are providing 100 days money back guarantee which is the highest among hosting providers
Free lifetime domain name
SSD Storage provided which means your website can expect to load at least 2x faster than other websites on general HDD storage.
All hosting plans offer unlimited CDN
For those looking for WordPress and Jetpack hosting, WPWebHost is your best choice
Free Jetpack Professional worth $ 299/yr with Geek and Plus plans
Free migration and transfer service
Cons
Only WordPress hosting
Contract period has only monthly or annually plans
Prices are higher when compared with another ordinary WordPress hosting.
Reviews
The hosting service has great reviews and is much loved in South-East Asia. Their customers have only good things to say about them as is evident in all popular review sites which offers them very good ratings.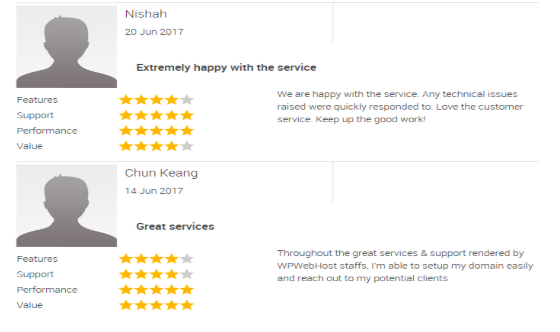 Customer Support
WPWebHost customer service is available for its customers 24/7, and they offer both live chat support and Facebook messenger. Their help is available in English and the support staff has complete knowledge of WordPress Hosting. There is no knowledge base or tutorials available on their site though.
Conclusion
In short, WPWebHost is completely worth it for the things they offer are really amazing. The support is great with good uptime and performance. Since WPWebHost focuses heavily on WP users, it's great for WordPress Hosting, and would definitely recommend it to anyone who is searching for the best WP hosting.